U-Diag.
Create questionnaires for you and your customers
U-Report.
Gather and manage your respondents' data
You want to create your own assessments
Demonstrate your expertise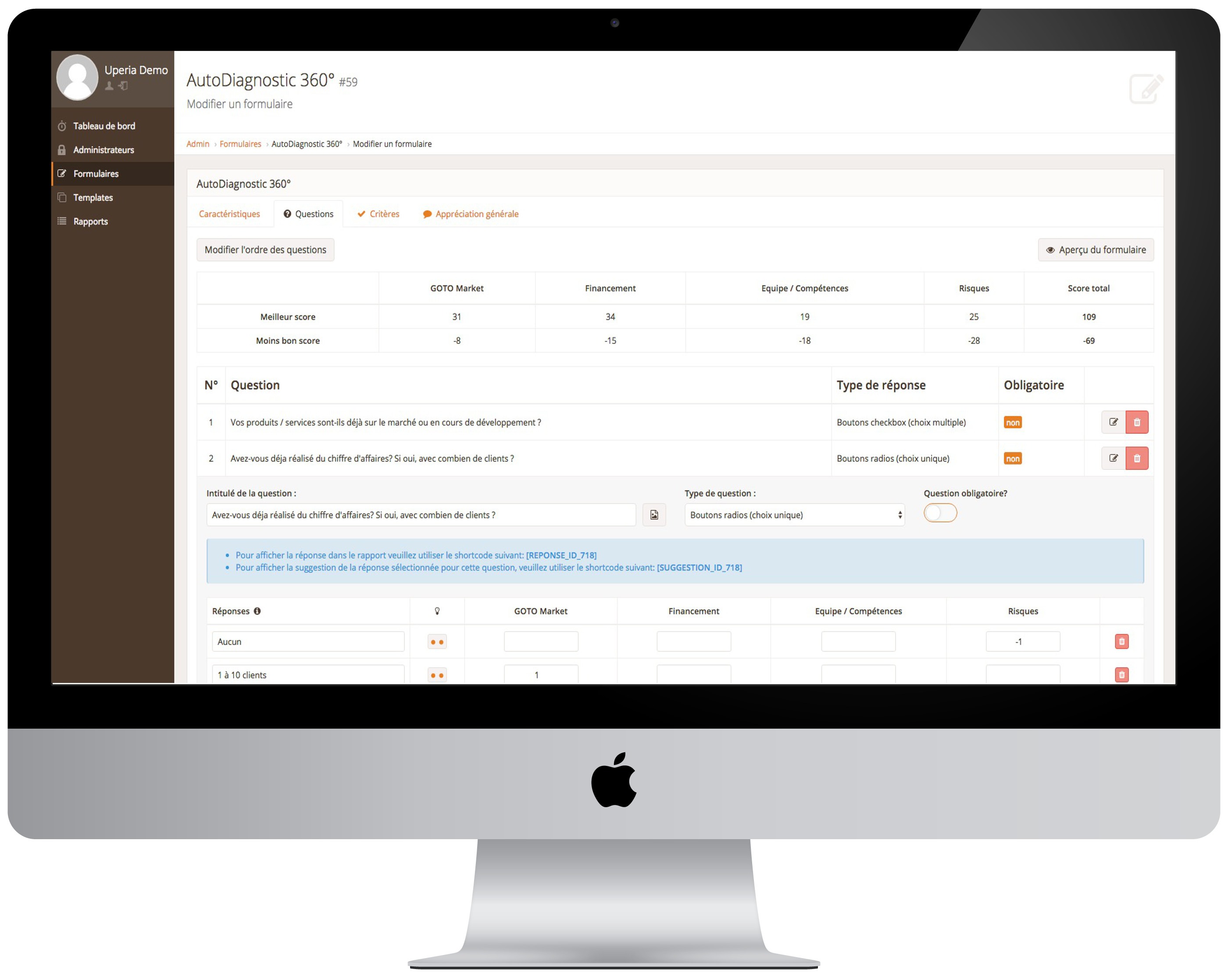 U-Diag. is your intelligent tool for creating, publishing and modifying your questionnaires, scoring and analyses:
Define the purpose of your analysis
Configure your criteria
Customise your reports
Manage and share your assessments
You can then share your analysis with your prospects, contacts or customers in a customised report in real time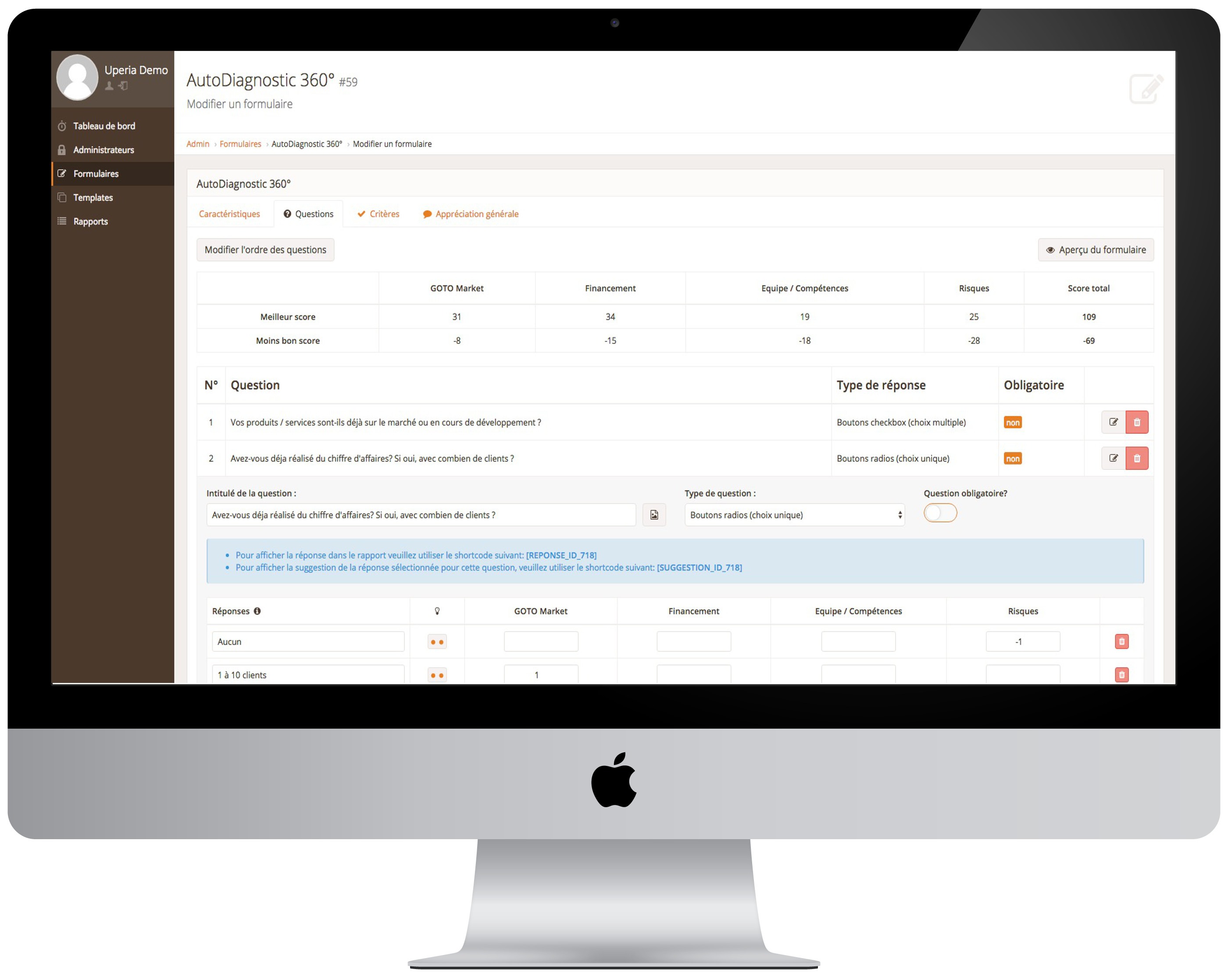 Questions
Mandatory or not
Display conditions
With or without responses
Automatic validation
Personal style (CSS)
Responses
Radio button for unique choice
Checkbox button for multiple choices
Dropdown lists
File
Text field
Text bloc area
Images
Date
Forms
Progress bar
Answer summary page
Automatic sending of the report to the user
Automatic sending of the report to the owner
White label (report & form)
Questionnaire and report directly on your site
Reports
Customizable reports to your brand
Choice of elements to display
Scoring / Evaluation
Suggestions
Notation
Criteria
Graphics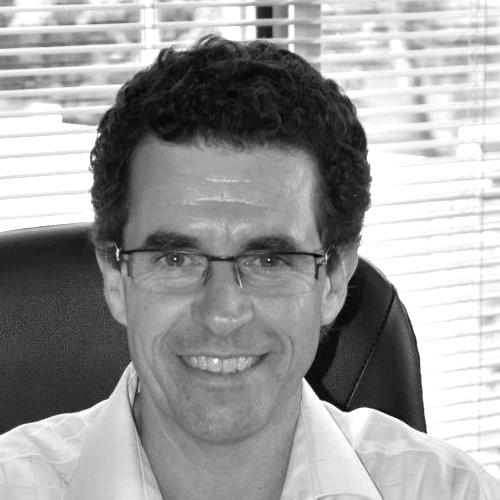 Jean-Louis Brelet
CEO
Entrepreneur Avenue
The method used to create the assessments is quick and simple. It's easy to create understandable, relevant report formats. I would recommend U-Diag to experts who are looking to develop their networks and expand their reach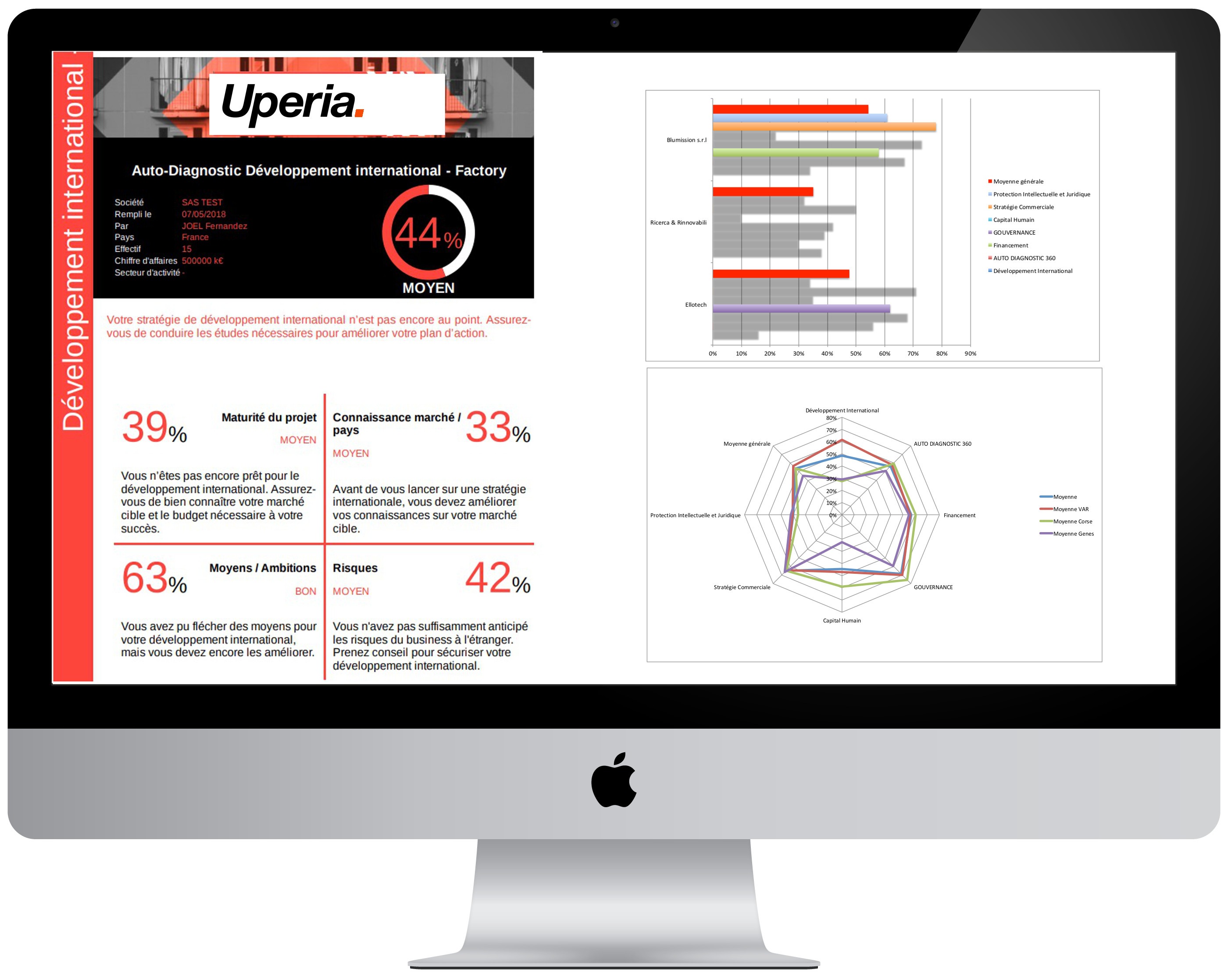 To gather and use your prospects' data
Statistics, information and scoring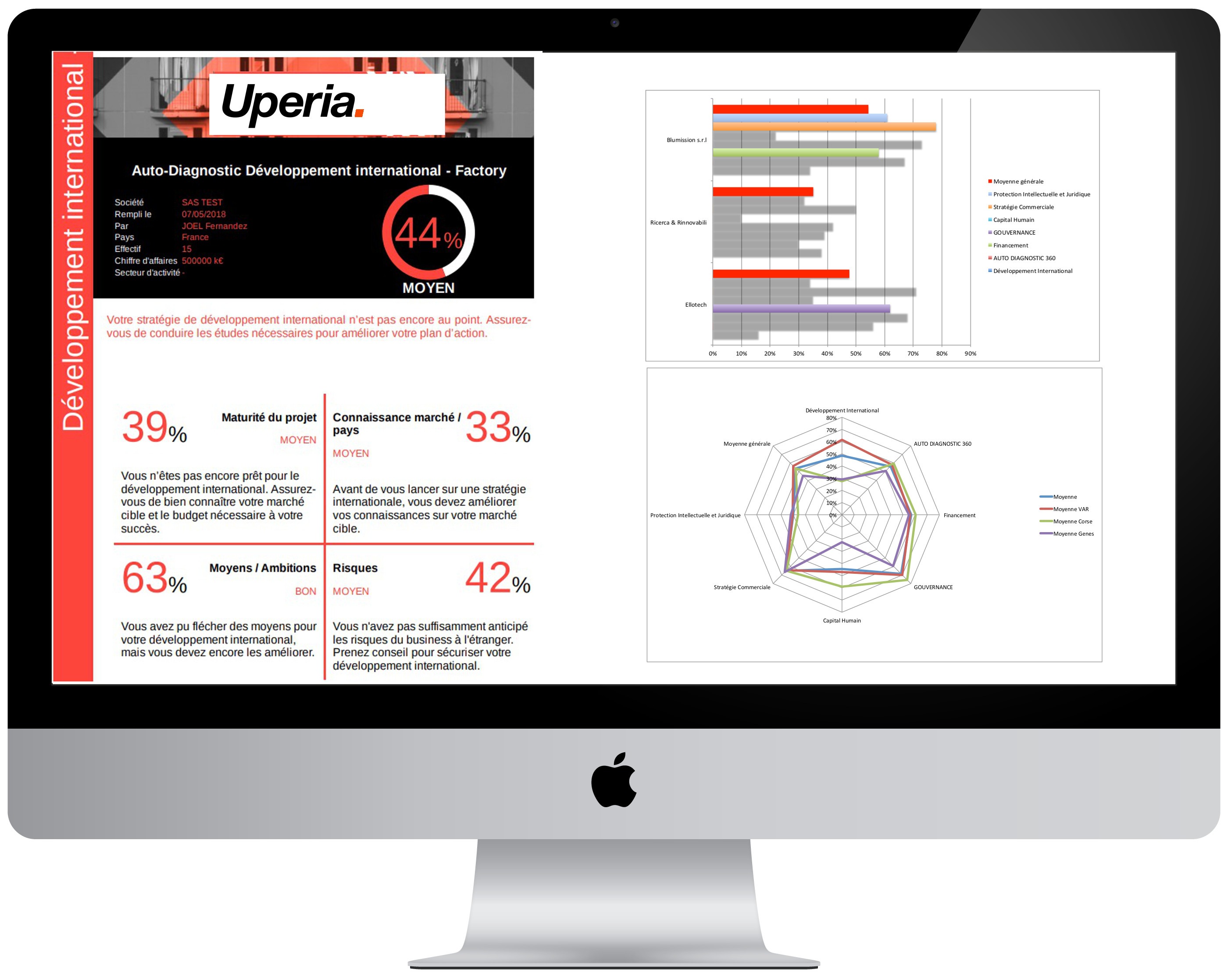 U-Report. to gather and administer data and questions received from your contacts:
Define your data requirements
Select the appropriate assessments
Administer and share your assessments
Administer and use the data collected
Get access to a simple, effective analysis and processing tool that adds value to the data you collect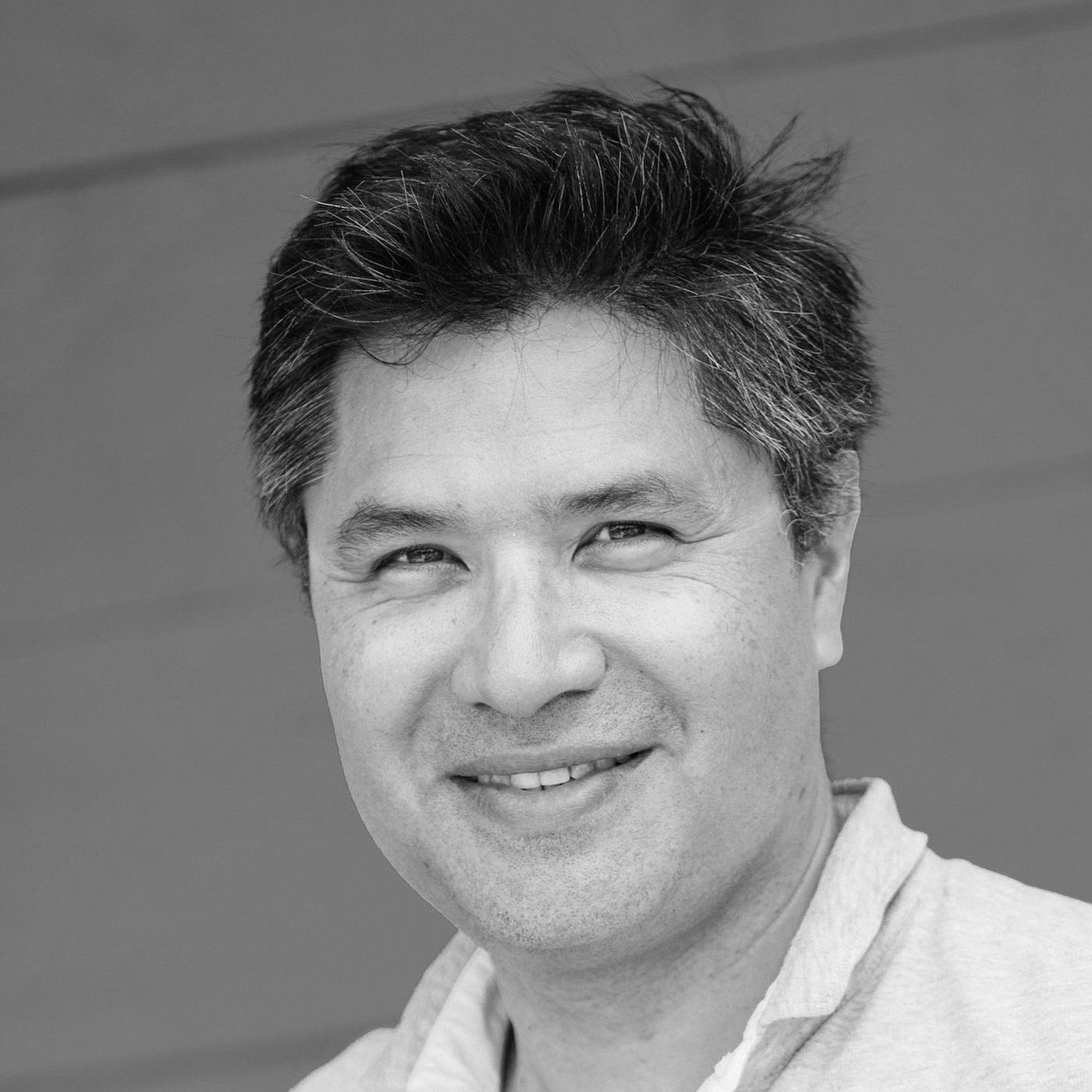 Gilles Chetelat
Co-founder
StickyADS
I regularly use U-Report assessments to evaluate and select the investment proposals I receive in just a few minutes. I select the appropriate assessment and ask the project sponsor to run it. It's always interesting to combine an analytical approach with a traditional examination of a scenario
Examples of assessments :
Explore some examples of assessments and analysis reports.
Need some help? Do you want a tailor-made assessment in your own colours?
Our teams are on hand to discuss your project and offer you turnkey solutions. Please don't hesitate to get in touch.